Mon super coup de cœur de la fin de l'année 2014, c'est
RuPaul Drag's Race
.
La première fois que j'ai entendu parler de
RuPaul
, c'était sur un event Facebook il y a deux ou trois ans. Un concours de
Drag Queens
, dans un bar du Marais. J'y embarque mon homme, et nous nous retrouvons dans un tout petit sous-sol entouré d'une dizaine de drags.
extravaganza
.
Quand un de mes meilleurs amis me reparle de ce show télé il y a quelques semaines, je me mets alors à regarder la saison 6 (2013). Le principe : des
Drag Queens
doivent, chaque semaine faire des épreuves, en groupe, en duo ou solo, et sortir du lot pour être la meilleure, et devenir la next
American Drag Superstar.
Les deux moins bonnes de chaque épisode doivent prouver leur valeur dans un duel de "
lipsync
" où une seule des deux sera repêchée pour continuer l'aventure. Et ainsi de suite, jusqu'à ce qu'il n'en reste plus que 3. Vient alors la grande finale.
Le tout est orchestré par
Rupaul
, mère des Drags, qui chaque fois leur invente des missions loufoques et pailletées, et qui préside un jury dont elle seule a le dernier mot.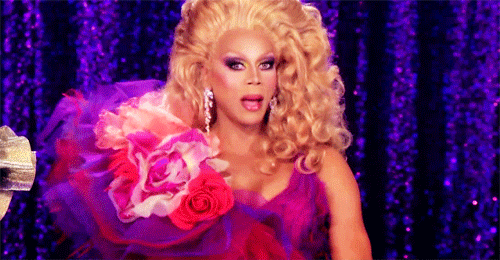 Une télé-réalité toute basique, mais avec le piment des
Drag Queens
. Caractères bien trempés, costumes extraordinaires, perruques invraisemblables, et crêpages de chignons ou alliances à gogo. Le format de l'émission est assez court (40 minutes) et très rythmé. On se prend au jeu.
Après la saison 6 qui se termine par un final grandiose, je me suis donc penché sur les saisons 1 (
assez brouillon et rétro
), puis 2 et 3 où l'on retrouve déjà à l'époque tous les éléments qui existent encore aujourd'hui.
Car un des attributs de cette émission, ce sont les éléments répétitifs. Chaque semaine,
Rupaul
a ses phrases cultes : "
Gentlemen, start your engine, and may the best woman win !
" ; "
This is the time for you to lipsync for your life
" ; "
Good luck, and don't f*** it up !
" ; ou encore son sermon de fin : "
If you can't love yourself, how the hell are you gonna love somebody else ? Can I get a amen in here ?
"*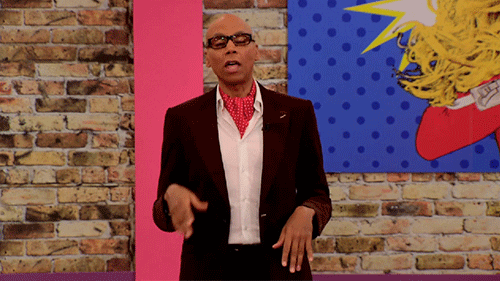 Un lexique bien particulier qu'on retrouve sur le
Rupaul Wiki
. Et c'est le bémol de cette émission, qui n'existe pas en sous-titrée français. Accrochez-vous pour tout comprendre l'argot
bitchy
des
Drag Queens...
Vous l'aurez compris, on s'attache très vite chaque saison à tous ces personnages extravagants et
Mamma Ru
finit par devenir elle même un peu votre mamma à vous aussi. J'attends donc avec grande impatience la
saison 7
, annoncée pour début 2015, qui sera l'occasion d'une soirée hebdomadaire de retransmission à la maison.
Et je vous suggère également de prendre vos places pour la tournée des drags,
Battle of the Seasons
-avec
Michelle Visage
(une des jury permanente) et certaines des drags qui ont ponctué toutes ces saisons - qui passe cette année à Paris, le 9 avril 2015 au
Trianon
. Toutes les infos sur
l'event Facebook
.
* "Messieurs, démarrez vos engins, et que la meilleure gagne !" ; "Il est temps pour vous de faire le Playback de votre vie" ; "Bonne chance, et ne merdez pas !" ; "Si vous n'êtes pas capable de vous aimer vous-même, comment diable pourrez-vous aimer quelqu'un d'autre ? Puis-je avoir un Amen par ici ?"